If you are in the process of organizing your wedding, one of the details that you will have to look at the most will be where to celebrate the banquet on the day of your wedding. To make this important decision, you will have to consider several aspects: the season of the year (if it is a seasonal wedding or rather a winter wedding), if you want to celebrate a wedding outside, or inside a Big room.
In addition, you will have to keep in mind the type of evening wedding decor that you are going to use depending on the wedding style you want. You can use a country-style banquet table decoration if your celebration will be in a garden, or on the contrary, opt for one Baroque style table decoration, if you are going to celebrate your wedding banquet in a large imperial style room.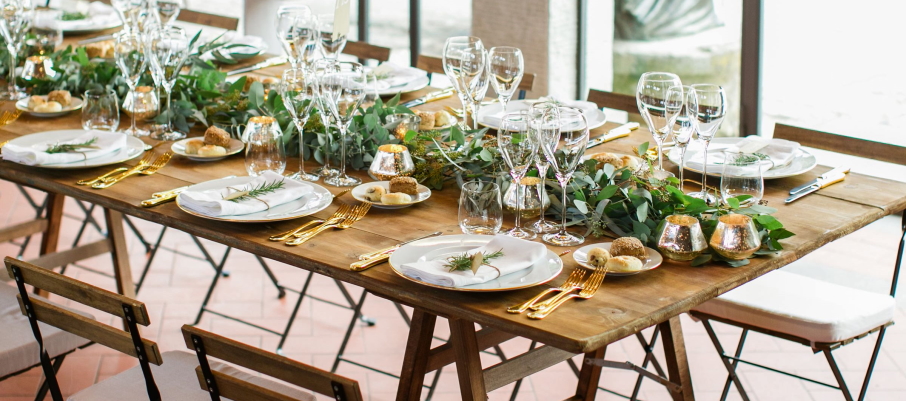 Tablecloths for your wedding banquet
If you want to get it right for wedding decor ideas for tables at the banquet, pastel tones or a tablecloth with lace motifs, will be a safe bet. The tablecloths in light tones will combine with all kinds of decorations and will give a touch of elegance to your wedding.
Centrepieces that will bring joy to your banquet

If, on the other hand, you want to give a great touch of colour to the decoration of the tables of your wedding banquet, you can bet on the centrepieces. If you opt for a tablecloth in light tones, any type of flower arrangement will become the ideal decoration complement, bringing freshness and colour to each table. One idea that you can use is to use the same flowers in the message centres, in the decoration of the ceremony and in the rest of the floral decoration of your wedding day that you will have in your bridal bouquet.