More and more brides are opting for a wedding hairstyle with their hair down. Season after season, hairstyles with loose hair are gaining more presence and offer new styles and bridal hair down ideas 2020 to the traditional bridal look.
Wearing your hair long and loose brings a lot of freshness and relaxes the bridal look. For this reason, many brides, even veiled, choose to wear their hair down and adorn it with a headdress. The casual and natural effect of the hairstyle with loose hair is dressed with a headdress that provides the ceremonial effect. It is a perfect balance.
In this way, you can see that it is not essential to wear your hair collected at the wedding, but the coherence of the look will determine what is most appropriate.
Some tips for bridal headdresses for long and loose hair
Free hair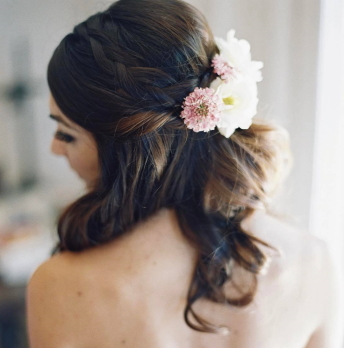 Many brides do not want to wear any pins in their hair. If you want to wear your entire hair, very loose, here are some ideas. Take the opportunity to wear an accessory such as a headband or a small brooch that holds a whimsical strand.
Semi-picked
If you do not want the hair on your face to bother you, go for a semi-updo. Play with volumes on the top of your head. Go with long wedding hair down hairstyles with the sides of your forehead. Above all, keep in mind the style of your wedding, your dress, etc.
Mane to the side
A trick of keeping your hair very fluffy through the day, particularly if you have it fine is to wash it on the wedding day but without applying a mask or styling cream. In this article, here is an explanation of how to prepare and care for your hair before the wedding, particularly if you are celebrating it abroad.
Brides with loose hair and floral headdresses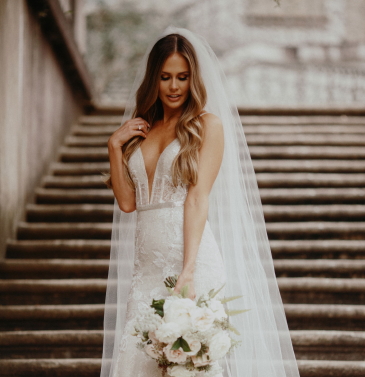 Brides who opt for flower headdresses with loose hair should opt for flowers proportionate to the volume of the mane whether they are preserved natural flowers, crystal or embroidered Chantilly fabric (as shown in the following photos). They can be presented in various forms such as waterfalls, headbands, caps the important thing is to keep the harmony of the volume.
Brides with short hair and headdress
The brides with short hair, usually opt for loose hairstyles, because if it is too short cannot pick up. Short hair with loose hair is ideal for showing off the cut splendidly and enhancing personal style. It is enough a discreet and fine headdress that puts the wedding accent with just the right touch to decorate the hairstyle making it special.