No matter what wedding hairstyles with veil you decide to wear on your wedding day, it is assured you that the correct choice of veil will make you look great. Below are the bridal hairstyles that look perfect with veil.
Top 10 Veiled Bridal Hairstyles
Short curly hair with flower
Sophisticated yet simple veiled wedding hairstyle for girls with shorter hair. If you have curly or straight hair that does not matter, because you can achieve this look by creating some waves in your hair and fixing them with hairspray or mousse.
High wavy bun
The classic veiled hairstyle, but it is still elegant. When creating a high bridal bun with a veil to the height of the crown, the veil can be placed underneath. For this, it is a hairstyle for brides with a long veil, which you can remove during the party if you wish.
Side curls
The short veil can be worn with these wedding hairstyles. If you use a cage-type veil and leave the hair loose with a little collected towards the opposite lake, you will have a spectacular look.
Semi collected simple
You don't want to wear a formal updo, but your hair is not going down either, what can you do?  You can wear a semi-collected for brides with veils; in which you must make a side parting and a small carding in the upper area and then join some strands in the back area that goes just below the veil.
Loose hair
No matter how long your hair is, you can wear it loose, wear a long veil, and look spectacular. You can make a part in the middle place it to the side, using a hairstyle with a tiara as a wedding accessory.
Compact low bun
It can be used with or without a part, with this bridal hair down with veil hairstyle you can place the veil down so that it comes out of the nape, or that it goes above the hairstyle. Either way it will look great.
Pigtail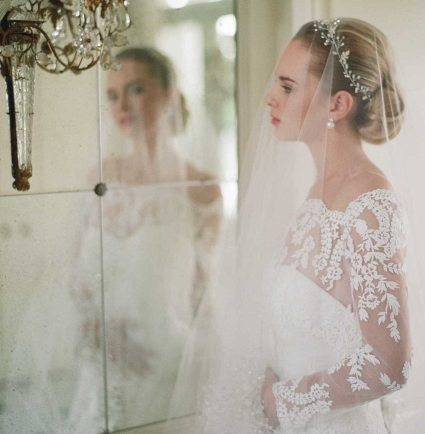 There are several ways to wear a ponytail, so do not think that this cannot be a good option for a veiled wedding hairstyle. If you wear it high, you can place the veil so that it comes out on both sides.
Vintage
The hairstyle of the divas of the 50s. You just have to wear side bangs and loose waves. It is quite simple but full of glamor, which you can wear with a short veil, but you are not going to place it towards the face, but rather behind the ear.
Braided updo
Braids are very versatile alternatives for veiled bridal hairstyles. You can combine a carding in the upper area, let a few strands fall to the face as a carelessness and that the braids go to one side to collect the hair.
Updo integrated with the veil
One of the most popular wedding hair with using veil hairstyles for brides is to integrate the veil with the collected hair, in this way we adapt it to the head and secure it around the bun.